360° full touch of spatial fragrance
The way to control the scent diffuser from the scent machine device
Design the perfect smell machine for you today

and create a new tomorrow

Highlight the advantages of Scent marketing services, choose

to cooperate with SCENT-E, so that you can easily complete

the Scent marketing planning and execution. A variety of

scent machines in the commercial and household fields can

meet the needs of different customers or places of use.

Now imagine what the SCENT-E aroma diffuser can bring.
The Scent machine SD series is a commercial engineering aroma essential oil diffuser. The three models are suitable for commercial places with different sizes of spaces. The scent machine SD series uses a smart phone application to support Wi-Fi function, fully visible and easy to control the fragrance of the target area.
Applicable places: suitable for various commercial places such as hotels, shopping malls, exhibition halls, airport waiting halls, sales centers, automobile 4S shops, etc.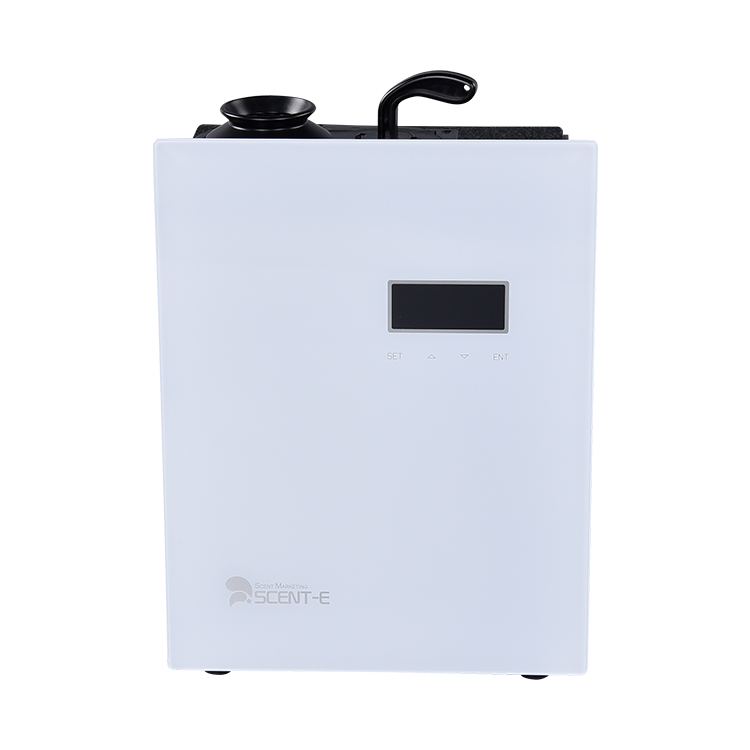 SCENT-E is a scent machine production factory integrating design, research and development, production and sales,
Focus on the sales and OEN/ODM of various commercial and household scent machines
Create efficient spatial fragrance with superior performance scent machine
1. Diffuse incense to cover medium-sized spaces
The scent machine SD series is a hotel aroma diffuser. According to the needs of commercial places such as hotels and shopping malls, three types of covering spaces ranging from 100 to 300m³/300 to 1000m³/1000 to 2000m³ are designed to be applicable. The coverage of fragrance scent in the place reaches the most ideal state.
2. Metal shell
The SD series of scent machine adopts a metal shell, which realizes anti-corrosion, high temperature resistance, cleanliness, beautiful appearance and anti-wear.
3. Fashion design concept
Acrylic panels are used on the front to express a simple and fashionable design concept, making the appearance of the product full of modernity, suitable for use in various decoration styles;
4. Internet of Things Management Mode
In order to fully see and easily control the scent of the target area,scent machine SD series use smartphone applications to support Wi-Fi functions to realize remote monitoring of oil volume, adjustment of equipment parameters, group authorization management and other functions.
5. Double diffusion
The strong diffuser power designed by the SD series of the scent machine and the double diffuser of the invisible fan make the fragrance spread faster and the diffusion effect is good.
6. Installation method
The commercial wall-mounted aroma diffuser SD series has three installation methods: floor-mounted, wall-mounted, linked to the Fan coil unit or HVAC fresh air system. The flexible installation method avoids the restriction of the use scene building during the installation process.
Product parameter
Brand: SCENT-E
Model: SD series (SD005/SD008/SD020)
Color: black, white
Power supply voltage: DC12V
Net weight: 2.85kg; 4.65kg; 6.1kg
Whole machine power: 3W/6W/10W
Essential oil capacity: 150ml/480ml/880ml
Atomization amount: 0.05-0.5g/h; 0.3-1.8g/h; 0.5-5g/h
Coverage:
100m³≤SD005≤300m³
300m³≤SD008≤1000m³
1000m³≤SD020≤2000m³
Dimensions:
SD005: 196mm*70mm*243mm
SD008: 227mm*87mm*306mm
SD020: 257mm*98mm*351mm
Choose SCENT-E to provide all kinds of scent machines with superior performance for your scent marketing plan
I guess there is also a suitable scent machine for you